Goa Leela Palace - Goa, India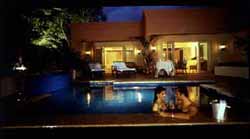 Address:
Leela Palace Hotel
Mobor Village,
Cavellosim Beach, Goa India
The Leela Palace, Goa has a unique position both geographical and historical. It is located halfway down India's west coast and is enclosed by the Western Foothills and The Arabian Sea. An unusual Blend of eastern and western culture is evident here in every day life, derived from a history of Portuguese rule that spans more than 450 years. Enjoy the unhurried pace of life, wander along miles of sun-kissed white beaches fringed by palms and caressed by the warm waters of the Arabian sea.

Explore Goa Leela Palace Goa, India



The Resort Leela Palace, Goa just 45 minutes by air from Mumbai (Bombay) and a scenic drive through lush coconut groves will bring you to the southern tip of Mobor Beach where the Idyllic and peaceful resort awaits you.